Published 2nd November, 2021
When considering a babysitter here on the Coast, it is important to consider whether or not you can trust them. This may seem like an easy decision, but in reality the most difficult part of trusting someone else with your children will probably come from our own mindset as parents and which of the various babysitting styles suits you and your children best!
When dealing with newborns through to adolescents there isn't always enough hours between morning wake up calls until bedtime stories are finished just so that everyone has some "down" time – which makes a reputable babysitting service to important.
It's a big decision to choose and trust someone you don't know with your child, no matter whether you're leaving for dinner for just a few hours, or need an extended care service. To help make the choice easier for you, we've compiled a list of things to consider when choosing your Gold Coast babysitter: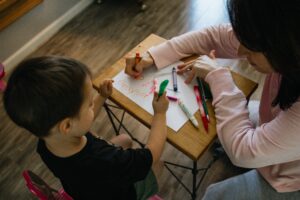 1) Use a reputable baby sitting service
A good place to start is to ask friends or family members who they use for babysitting. You may also want to choose a service with many positive testimonials (as we are so fortunate to have received here at Heaven Sent Help).
2) Call or email and ask your questions
A babysitter's job isn't babysitting, it is babysitter care. You should feel comfortable contacting the babysitter with questions and concerns about your child's well-being. You will be able to get a better idea of the babysitter's abilities and personality by having a phone call with Ann.
3) Trust your gut
If you don't feel comfortable with the babysitter, there is a reason. No matter how much research you do or how much you like the babysitter on paper, if your gut tells you no, then it's time to make a new choice.
4) Consider age
Babysitters who are close in age to your children will likely give them more fun, whereas a babysitter closer in age to a parent or grandparent will provide them with some more structure and routine.
There you have it! If you are feeling a little less nervous now, we're glad to have helped. Please enquire about Heaven Sent Help baby sitting services on the Gold Coast by using the Contact form below. We'll get back to you as quick as we can.